Residential Plumbing Services in Fox Valley
For more than 50 years, homeowners in the Fox Valley and beyond have relied on Jim's Plumbing for their residential plumbing repair needs, and it's a badge we wear with honor and pride. As your local plumbers, we provide a wide array for residential plumbing repair services, serving homeowners and renters throughout Northeast Wisconsin. No matter your plumbing repair needs, our expert team of passionate and highly trained plumbing repair professionals are standing by to provide the exceptional product and service that have become synonymous with the Jim's Plumbing name.
Our residential plumbing repair services include:
Hot Water Tank Installation, Hot Water Tank Replacement & Hot Water Tank Repair

: We take it for granted until we don't have it anymore! Hot water is the ultimate resource in comfort and cleanliness in the home, so before you're left in the cold, let our team of residential plumbing repair experts tackle your water heater repair needs. If we find that your tank needs to be replaced, we will make budget-conscious recommendations for your water heater installation or water heater replacement project.

Sump Pump Installation & Sump Pump Repair

: If your foundation sits above the water table or your basement is prone to flooding, a sump pump may be the right plumbing repair solution for you! By sending water away from the home into a storm drain or dry well, a sump pump helps to keep your valuables safe and your foundation undamaged. Contact Jim's Plumbing for your sump pump installation and sump pump repair needs.

Leak Repair

: Around 10% of homeowners don't realize they have a leak somewhere in their plumbing system. A leak left unrepaired can cost you hundreds of dollars in excess, preventable water bills. Worst yet, a leak can cause immense water damage to your home, leading to hefty repair bills. Our leak repair services help to find and repair leaks in the home, saving you hard-earned money and preventing the heartache of home damage and repairs.

Shower Installation & Shower Repair

: It's hard to feel clean, refreshed, and ready to face the day when the shower is on the fritz. A leak of ten drips per minutes wastes more than 500 gallons of water per year and costs you hundreds of dollars or more in water bills. Whether you need a brand-new shower installation or a shower repair for your existing unit, the plumbing repair professionals at Jim's Plumbing are up to the task!
New Construction / Kitchen & Bathroom Remodeling
Turn to Jim's Plumbing for all of the plumbing, plumbing repair, and kitchen & bathroom remodeling needs in your new home, duplex, apartment building, condominium, and other housing centers.
If you're making an investment of building or remodeling your home, it's essential to make sure you choose an experienced, licensed plumber who uses quality materials and workmanship.
At Jim's Plumbing, we'll work closely with you and/or your contractor to achieve the desired kitchen & bathroom remodeling outcome that fits your needs, your timeline, and your budget.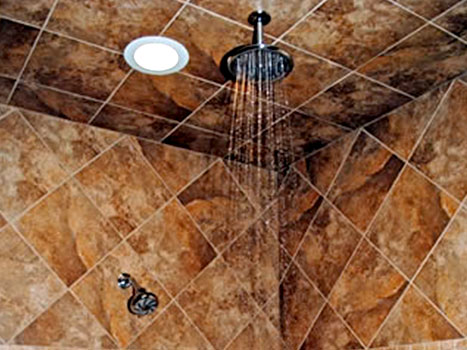 Plumbing Repair / Service Work
Jim's Plumbing employs specialists who can handle complete plumbing repair or replacement services, such as faucet replacement and repair, water softener installation,water heater installation, water heater replacement, and water heater repair, toilet installation and repair, drain replacement, water piping, and just about any other plumbing repair problem you are experiencing.
Jim's Plumbing offers reliable, friendly service and free estimates. Give us a call or send us an email today.